(another) HDDVD vs DVD Comparison
The Setup:
Movie:
"Spy Game" Deluxe DVD vs "Spy Game" HDDVD
Projector:
Panasonic AE700 (3 LCD 720p native HT Projector)
Screen:
Home-made frame w/ blackout cloth @ 108"
Camera:
Canon G3 @ 15.5ft, auto exposure
DVD Player:
Oppo 971h set to 720P via HDMI to Projector
HDDVD Player:
XBOX360 w/ HDDVD Addon via Component to Projector




The following images are at 50% resolution. Links are provided to the full-res versions.
The DVD version is displayed, mouse-over each one to see the HD-DVD version. I took these one after the other, flipping the input between the Oppo 971h dvd player and the XBox360. Although taking a picture of a movie screen with a digital camera isn't going to show exactly what your eye sees, the difference shown here is pretty much what I experienced. The contrast seemed higher, a lot more detail, and when you consider that the additional detail comes as part of a moving picture, it looks pretty amazing.



I found that closeups didn't make that much difference, mainly because the character is the primary focus of the shot and already has plenty of realestate on the screen, and the background is out of focus, so more pixels there don't help when it's just blur.
Full Res DVD
Full Res HDDVD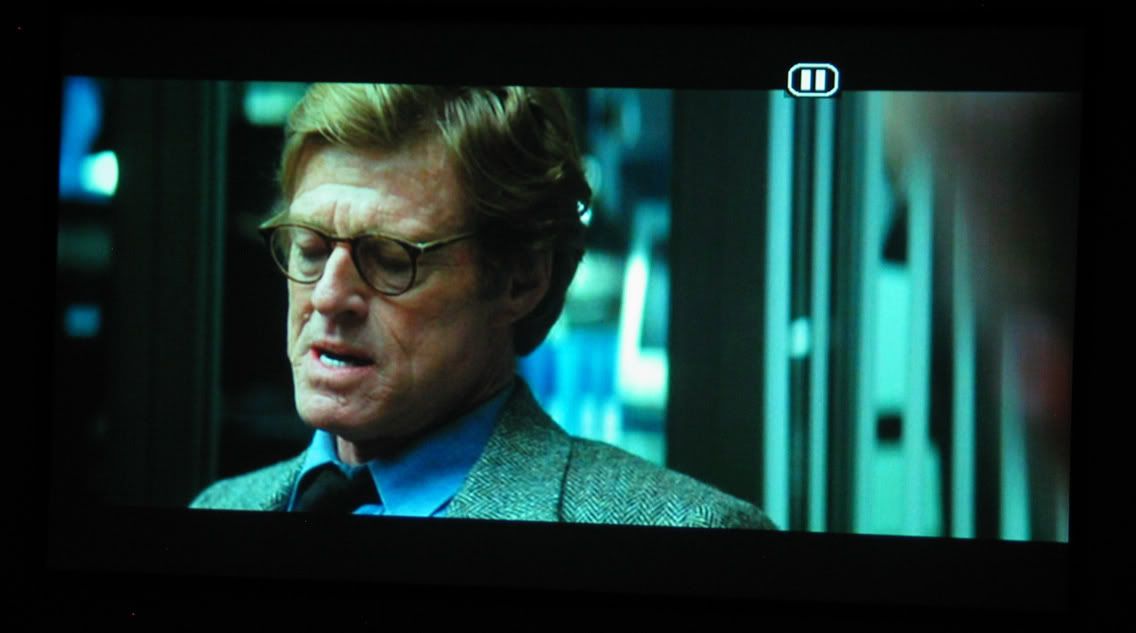 Check out this outdoor shot. The detail in the building in the background as well as the bullets on the shoulder of the guy on the left is noticable.
Full Res DVD
Full Res HDDVD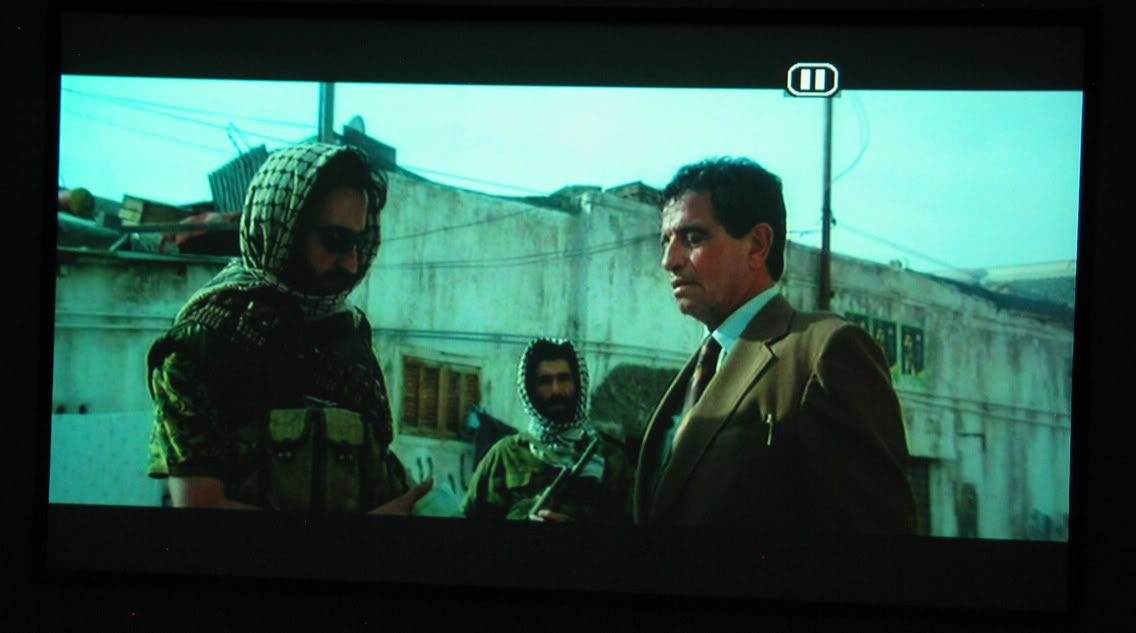 I was really impressed with the difference here, the detail in the clothes and the wall of the building is very apparent, especially when you see it on an 8' wide screen (checkout the full-res versions to see).
Full Res DVD
Full Res HDDVD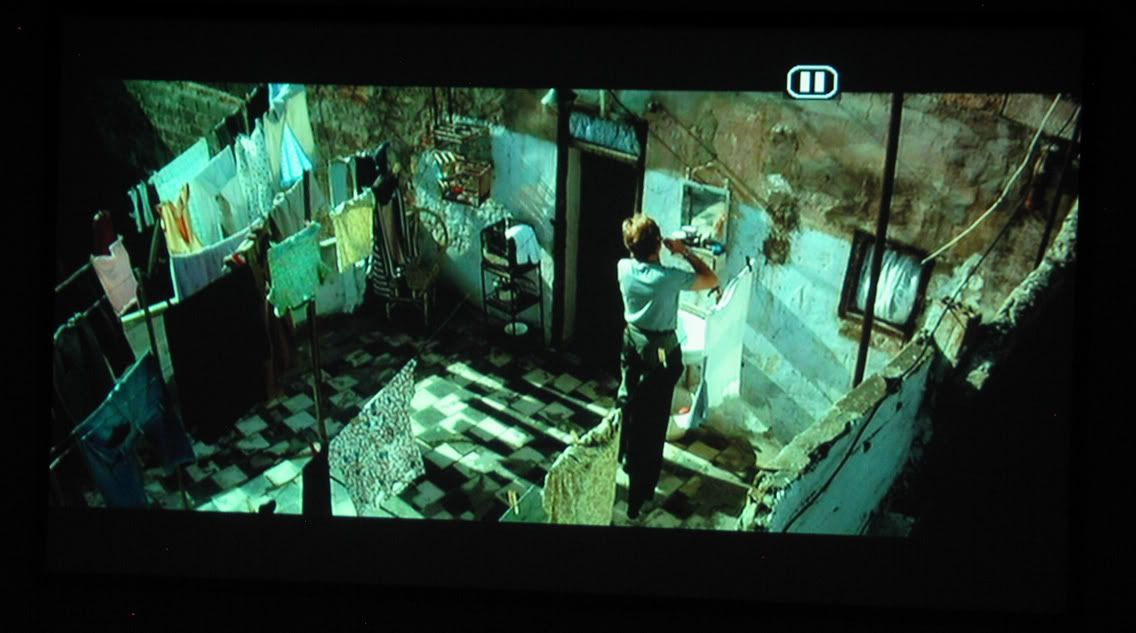 This shot is focused on the wall through the doorway. The detail in the books is noticeable. Also, because the shot is dim and blue, the compression 'blockyness' is very glaring in the DVD version and non-existant in the HDDVD version. This is more obvious when watching the movie as it plays.
Full Res DVD
Full Res HDDVD



This aerial shot of Berlin was night and day different. As the camera pans around you can see all the detail in the buildings and the skyline. I was the most amazed with the differences in this shot. To see more load up the full-resolution images and flip the tabs back and forth in Firefox.
Full Res DVD
Full Res HDDVD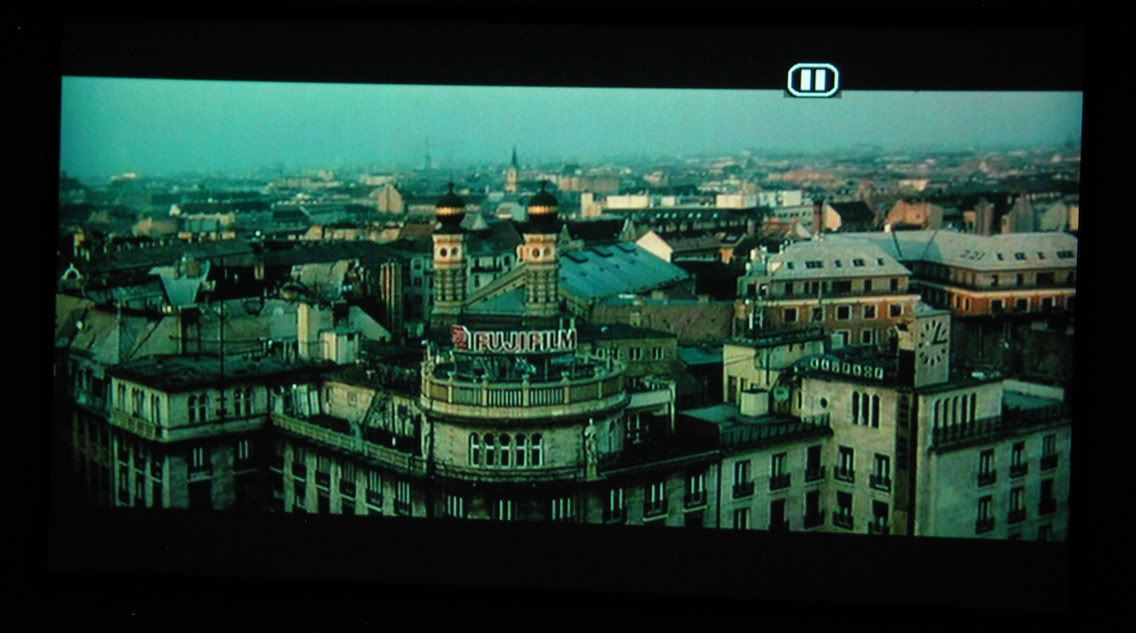 Send Comments
I took these pics shortly after hooking up the HDDVD Addon, the first time I watched anything in HDDVD on my setup. After this, I put in 'Miami Vice' in HD and was REALLY amazed how that looked, I think even better than 'Spy Game'.